Ginny Thrasher (USA)
It really gave me an opportunity to see more. To evaluate more about my shooting and to be able to analyze my technique deeper. I also knew that if I had it on and the coach could see more, he could coach me better, because he had more data, too. I love my SCATT MX-W2. It's just so much more user-friendly than some of the previous versions, and I love the fact that the wireless range on it is so long. My coach can have the tablet or laptop and literally walk outside of the range and still be watching what I'm doing on the SCATT - and I don't have any wires encumbering my movement. Also, the mobile app technology increases the options of what we could be doing in the future. For example, as the technology and popularity improves, I believe this could lead to international competitions with the audience able to watch SCATT live, as well as live virtual matches. .
Sergei Kamenskiy (RUS)
Seeing SCATT trainer in action for the first time I was amazed by how convenient and practical the computer program was. The software allows users to review practice sessions in great detail maximizing training efficiency. Ever since that moment, I've been using SCATT System and I can't imagine training without it now. Thanks to modern technologies, the trainer has now become much smaller, very user-friendly, and last but not least – it doesn't demand any specific conditions. I'm positive it's the best solution for anyone looking forward to bettering their shooting skills. I appreciate SCATT for helping shooters and continuous innovation!
Snježana Pejčić (HRV)
"I started using SCATT a long time ago, and to this day it stayed with me as one of the most important tools in my training process. There are moments, when I'm not quite sure what is going on, but then I power up SCATT, and it helps me and gives some clarity in regards to my problem. It's not always pleasant to see your mistakes on the screen, but in the grand scheme of things, it's necessary. Before my last victory in Beijing, I was using Scatt almost constantly to try to improve my performance, and in the
end, it paid off and I was able to win a gold medal!"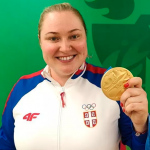 Zorana Arunović (SRB)
"SCATT system was one of the things that was present from my very beginnings. I wasn't very interested in using it when I was younger, but with time, step by step I included it in my routines and got to experience all the benefits that SCATT system provides. I got to see some things that I couldn't see from my perspective, I got to trace the line of movement of my pistol, learned so much stuff about my shooting. Of course, improving technique was followed with
result improvement, and that made SCATT my permanent training buddy.I am glad to see that SCATT products are improving on the daily basis!"
Tomasz Bartnik (POL)
SCATT system has accompanied me from the first days at the shooting range. It was always helping me to improve my technical skills. Many times SCATT showed me what exactly I'm doing wrong and what areas I had to work on. I think that without this help everything would have been much harder. With SCATT I won a gold medal in Changwon!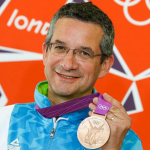 Rajmond Debevec (SLO)
"I am happy as a new 300-m free rifle prone World Champion! In fact, there is no single 300-m range in my country! So, beside my long years' experiences which helped me to select optimal tactic during the championships match, my success based on really lot of simulated training at home on SCATT device to analyse and sharpen my position, aiming and triggering! I am looking forward to shoot more top results in future!"
Henrik Larsen (NOR)
I started to use SCATT more often to get feedback to see what I could work with - what technical things I should improve to shoot higher scores and raise the bar further and further. When I saw what impact the SCATT had on my training and results I started using it every practice. So now more or less my work at the shooting range is constantly tied to the SCATT being mounted on the rifle. Writing down the statistics, tracking them, and looking at the data to see if I have a good or bad prognosis after months of training is extremely beneficial. For me, SCATT has changed the game of how you work to be a better shooting athlete and now the scores are just getting higher and higher.
Sebic Milenko (SRB)
If you think about success, and you have a goal to reach the high scores and fully enjoy shooting, then you need to use SCATT. SCATT is my great friend, perfect coach and the perfect tool when it comes to analyzing.
Thanks to SCATT for their support and big help in improving my results!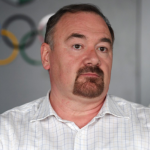 Csaba Győrik
During our training
sessions with Veronika, we use SCATT on a regular basis. I used to call the device my "Third eye". The coach's 3rd eye. Shooting technique-vise it is an important disciplining tool in my coaching kit.
Veronika Major
My coach and I work with SCATT for validation. It's like making the invisible visible. It has helped me in building my technique at different levels of delivering a good shot and later building my confidence in that regard. This tool has a permanent place in my shooting kit and I'm pleased with the work SCATT team is doing to update it for the preciseness needed for our sport.
Simon Claussen (NOR)
SCATT is an important tool for me in my everyday life of training, especially in the season running from October to March. It makes «clicking», dry firing and the «basic training» more fun and interesting. Working hard to improve the various SCATT-parameters has for sure brought my shooting skills to a new level. Before the 2019-season my best World Cup performance was 18th place. After months of hard work with SCATT I now have 4th place in World Cup, European Championship gold medal, Team World Record and a quota place for Norway for the 2020 Tokyo Olympics.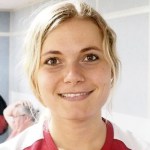 Katrine Aannestad Lund (NOR)
It took some time before I understood how important the SCATT tool would be in my everyday training. These days I use it in (pretty much) every training session. SCATT helps me to reassure that my technique is good despite ammo and wind. It also helps both my coach and me to single out and see what I need to focus on to become a better shooter.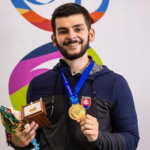 Patrik Jany (SVK)
I'm not using SCATT very often in my training process, but there are always times when you can't figure out what's going on and that is what SCATT is made for. SCATT trainers are designed to aid in understanding different parts of aiming, where you can focus on details – and shooting sport is all about details. So even I'm using SCATT 1 or 2 times a month, it's always great to check your progress in detail.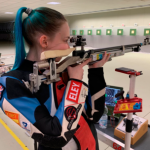 Seonaid McIntosh (GBR)
"I use SCATT once or twice a week in my training. It helps me when things aren't going so well and I can't figure out why on my own. Until recently I used the MX-02 and have swapped to the MX-W2 when it was released. The MX-W2 is great because I forget that it is there and so the feedback is more accurate to my normal way of shooting.
Alin Moldoveanu (ROM)
"I have been using SCATT training systems since 1998 and I am very satisfied with the results and since the introduction of the new SCATT MX-02 my shooting reached a whole new level. Thank you SCATT for helping me shoot better!"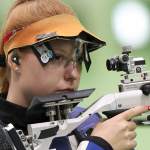 Nina Christen (CHE)
"I'm using the SCATT since I started shooting in the Swiss Junior National Team and I've always been really happy with it. I like how it gives me a feedback to my approaching, aiming and triggering and helps me and my coaches to see, where still something can be optimized."
Isabella Straub (GER)
"I have used SCATT around every 5th training since I purchased the kit. It is really helpful! You can see little mistakes you would miss without a SCATT. And it helps to increase the repeatability."