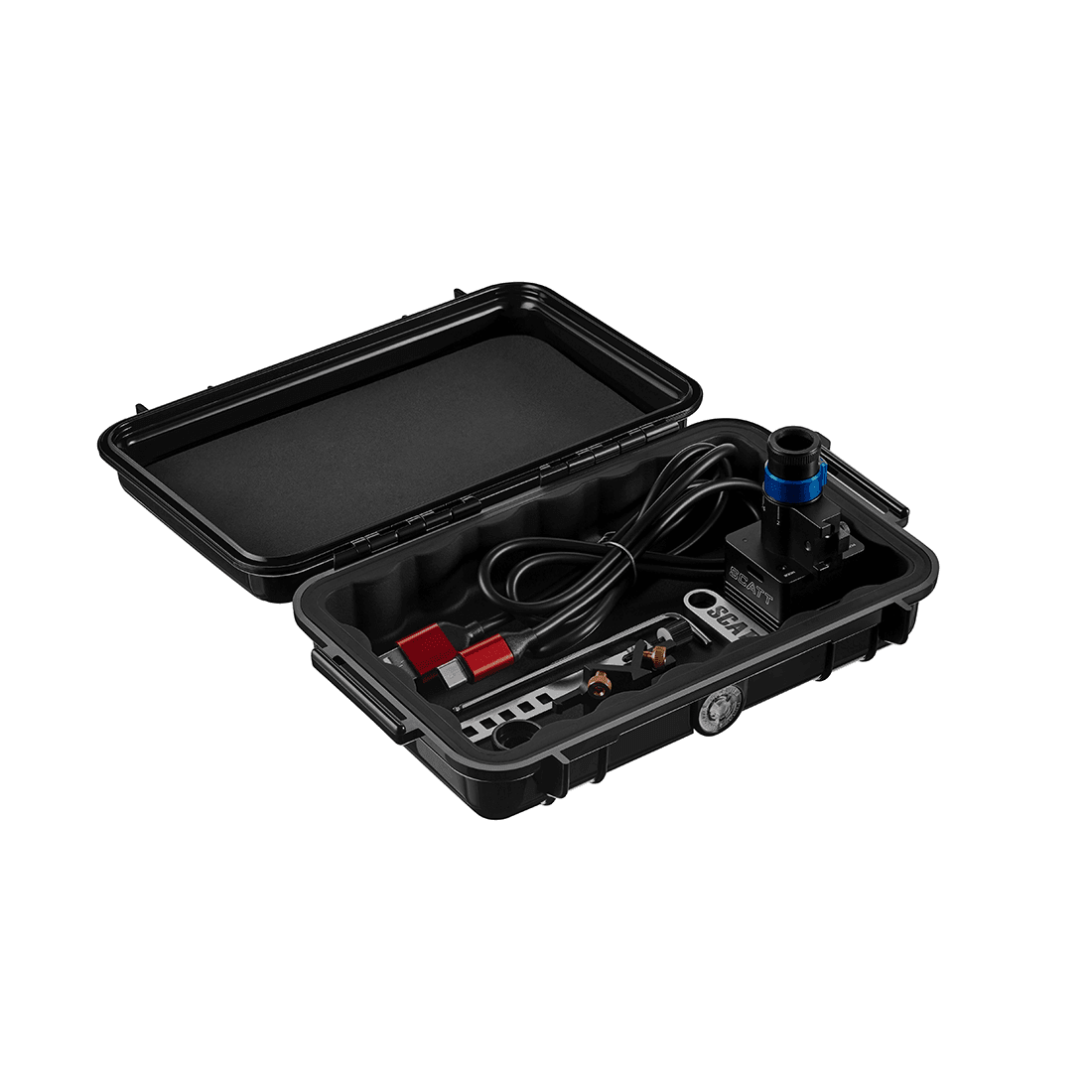 SCATT MX-W2
Distance to the target: From 2.5 to 1000 m
For use: Indoor, outdoor*
Live firing practice: Yes
Optical sensor type: Wireless
Weight: 0.45 kg
SCATT MX-W2 is the flagship and the most capable system in the SCATT model lineup. Just like any other SCATT system it will enable you to perform dry-fire practice (without ammo) at reduced distances with scaled down targets. For example, this way you will be able to practice the 50m smallbore discipline in your house while only having 5m of available space. The software will scale down and print the desired target for you. But aside from that, the MX-W2 also offers the capability to practice at the real distance shooting range with live-fire (with ammo), indoors or outdoors.
What really sets the MX-W2 apart is its fully wireless connectivity which works not only with laptops, but also with portable devices like Android or iOS smartphones and tablets. It can be connected to your computer or portable devices via Wi-Fi and its battery capacity delivers about 4 hours of practice time. If you forgot to charge your sensor before practice - no problem, the MX-W2 can work in wired mode, drawing power from your laptop or a power-bank while you practice.
This model can work with round black targets on white background, as well as police, biathlon, and archery targets.
Unlike the older infrared SCATT models, the MX-W2 doesn't require an electronic target downrange, all it needs is a well illuminated regular paper target. You can also use it at shooting ranges equipped with electronic scoring targets (like SIUS, Megalink, etc). The entire SCATT system is now concentrated in the optical sensor, so it's surprisingly compact. The MX-W2 optical sensor can be mounted on the vast majority of guns. 
MX-W2 runs with the newest SCATT Expert desktop program or the SCATT Expert mobile App. This cutting-edge program includes all possible analytical tools, data points and graphs for a comprehensive understanding of your aiming process.
SPECIFICATIONS
For indoor/outdoor use*
Distance to the target – from 2,5 to 1000 m
Optical sensor type – wireless / wired (Wi-Fi 2.4 Ghz, 20 Mhz Bandwidth / USB connection)
Optical sensor size: 34 x 35 x 60 mm
Optical sensor weight: 56 g
Software – SCATT Expert (available for Windows, macOS, Linux, IOS and Android)
Two-Year Limited Warranty
*Attention, equipment is not waterproof and is not intended for use in the rain.
The system is guaranteed to stay fully functional while using ammunition up to .338 cal.